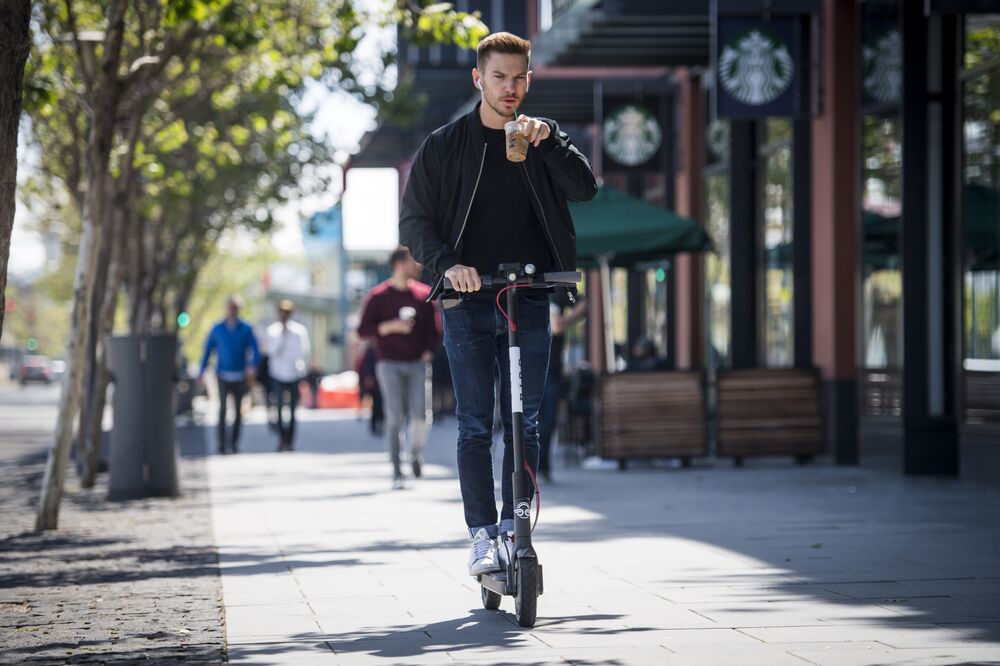 Electric scooter market size is expected to reach USD 28.56 billion by 2025
---
1 year of result

Bird – 10 million rides
Lime – 11.5 million rides (Combine scooter and bikes) in the past 14 months.
CO2 saved:
17.95 million pounds of CO2 emissions saved.

Bird riders have saved 12.7 million pounds of CO2 emissions.
Lime riders 5.25 million pounds of CO2 emissions.
This doesn't take into account the source of the electricity powering its scooters
Response
70% positive response.

San Francisco having the lowest positive perception of 52%
< $2 per ride

Costs less than $2 per ride

22% faster

Take to destination 22% faster than traditional pedal bikes

80% low cost

80% less than the cost of owning and operating a personal vehicle
Average daily cost of car ownership in us urban markets = $28.18 vs $8.21 lime-s (x2 trips) + public transit (x2 trips)

27% Last mile transport

27% to connect to or from public transit

Average ride 1.5 mile

The average Bird ride in Santa Monica is 1.5 mile
---
45% of the trips made in the United States are 3 miles or less,

40 percent of car trips are less than two miles long

and 78% of those trips are made by personal vehicle
---
Portland in 7 days
🛴 Hey Portland! It's time for your weekly #scootpdx data report:

Total number of trips: 96,255
Total distance ridden: 163,405 miles
Average trip length: 1.7 miles
Total number of scooters in service since 8/9/18: 2,363

(Figures are for 7/25-8/15, except where noted.)— Portland Bureau of Transportation (@PBOTinfo) August 16, 2018

https://twitter.com/PBOTinfo/status/1030228944962736129
Total number of trips: 96,255
Total distance ridden: 163,405 miles
Average trip length: 1.7 miles
Place of use
20% to restaurant & Shopping

20% to travel to or from a restaurant or shopping destination

39% to Work, School and Appointments

39% to travel to or from work, school or appointments
Household Income
Maximum user of 51% household income are under $75,000
Charger
Scooter bounty hunters can net $20 to $30 an hour
Brandon brought home $600 at one night

At the highest from reported, on one particularly successful night, Brandon brought home $600.
High adoption rate
Average adoption rate of 3.6% across major cities

The average adoption rate was 3.6%, compared to between 2% and 3% for traditional car-sharing services like Zipcar,
(Chart) E-scooter 3.6% in 2018, less than 1 year

Raid Hailing – Uber, lyst – 39% in 2078, 7 years
Bikesharing 13%, 8 years
Carsharing 16%, 18 years
Electric scooter accident statistics

161 percent spike in accidents

Hospital ER reports 161 percent spike in visits involving electric scooters.

5-10 injuries a week More than 3 reports says,

fire department has responded to 34 serious accidents involving the devices this summer
And in San Francisco, the doctor who runs the emergency room at a major hospital said he is seeing as many as 10 severe injuries a week.
At a recent City Council briefing, officials also recapped Dallas paramedics' records: 13 scooter patients from May to September.
Parkland Memorial Hospital identified 37 emergency complaints so far this year in which staff members mentioned scooters, though it kept no record on whether they were the electric kind.
Most of the injured are adults

noting that they ranged in age from 20 to 50 years old and were often injured attempting to catch themselves during a fall

Most of the accidents reported due to scooter defect.
Injury lawyer received 100 calls in recent month

Santa Monica personal injury lawyer who has received around 100 calls from people injured by scooters in recent months
Another attorney firm says, We're getting about 2 to 5 calls a week and it's getting more common.

One lawyer says,

She expects the number of accidents to increase, particularly on college campuses and heavily touristed precincts. "It's like the plague," Lerer says. "It's spreading so fast."
Fastest company to hit a $1billion valuation
Bird is one of the fastest startups to reach Silicon Valley's coveted unicorn status- $1 billion – Fastest company to hit a $1billion valuation

Bird – 10 months the company has reportedly reached a valuation of $2 billion
Sources